ThetaRay's Analytics Platform
ThetaRay's offerings are provided in a Technology-Platform-Solutions type model. ThetaRay's core IP, its patented analytics capabilities, are wrapped and integrated into a shared core infrastructure (the platform), enabling organizations to easily use the company's unique technology in solutions customized to their needs.
The company's platform, products and solutions support all aspects of the Big Data anomaly detection process. Key functionality includes data processing, date integrity and storage, anomaly detection, event generation, alert distribution, event investigation, automated reporting and case management.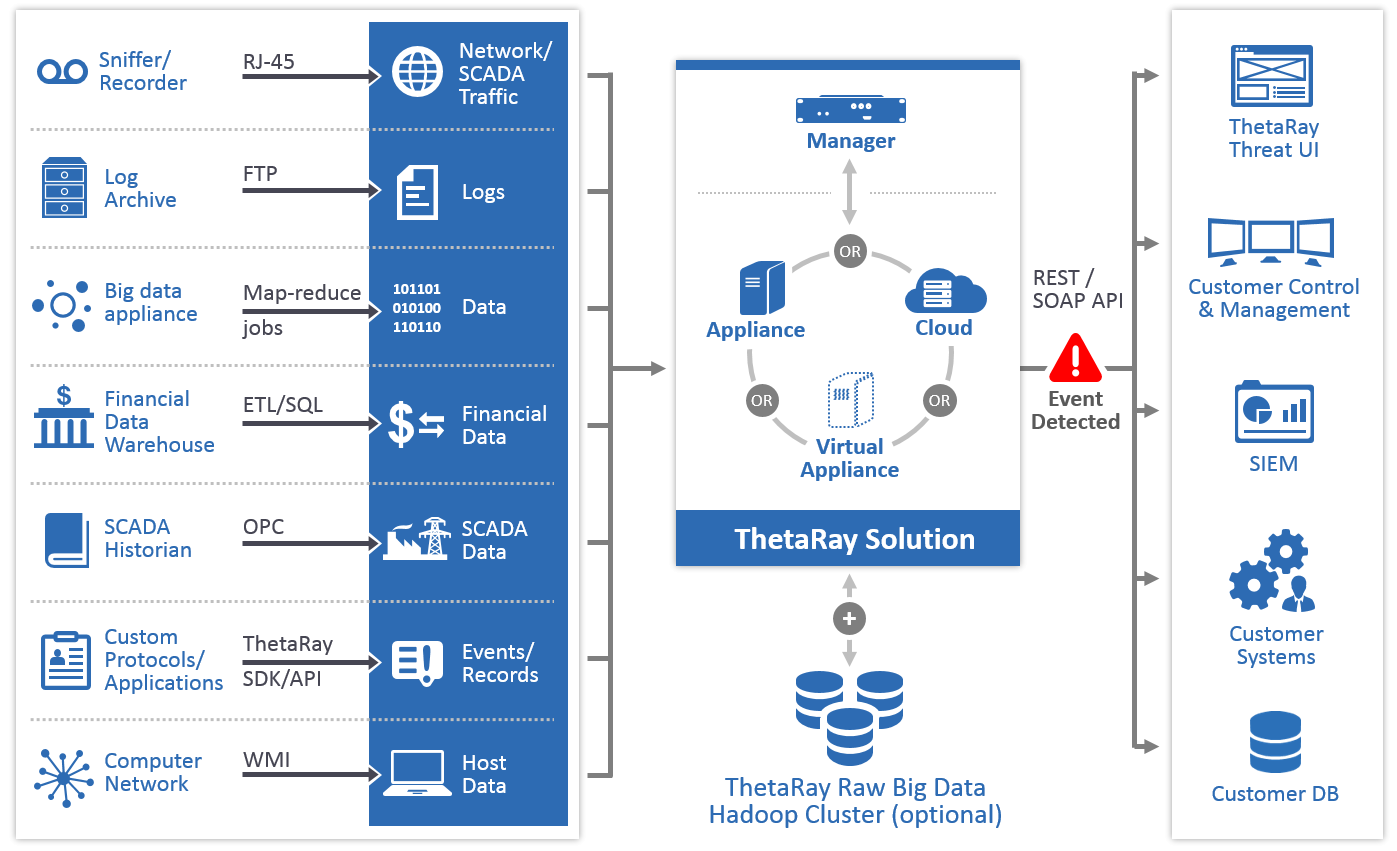 By continuously and simultaneously analyzing Big Data across multiple environments, operations, devices and protocols, ThetaRay is unique in its ability to  identify the first signs of unknown threats and risks, in seconds, before any impact to critical infrastructure or services can take place.
How It Works – The Math Behind the Magic
The core of this technology is part the company's disruptive IP, namely eight patented algorithms invented and researched by ThetaRay's founders: world-renowned mathematicians, Professors Coifman of Yale and Prof. Averbuch of the Tel-Aviv University. Encompassing over a hundred man-years of academic research, the technology was the focus of scores of M.Sc. and Ph.D. math students, and further holds validation by leading organizations worldwide.
ThetaRay technology and solutions are specifically designed to detect the unknown unknowns.
Unmatched unknown threat/risk detection rates with extremely low false positive levels
Not based on any rules, patterns, heuristics or data context understanding
Unique Hyper-dimensional detection, fusing almost any type of data source and benefiting from thousands of dimensions (features), with big data anomaly detection patented algorithms
Context-free, data driven detection, not requiring any prior domain expertise
Unbiased detection based on Brownian motion analysis (random approach)
Completely un-supervised with zero configuration and no threshold setting
Constantly up-do-date with dynamic automated training
Real-time processing detecting threats/risks in seconds
Very high computational efficiency leveraging patented dimensions-reduction algorithms, also suitable for embedded low-resources implementations
Non-intrusive detection not impacting existing networks or systems
ThetaRay's breakthrough technology, hyper-dimensional multi-domain big data analytics, has the distinctive ability to fuse and analyze massive amounts of heterogeneous data from diverse sources like network and ICS/SCADA traffic, machine data, financial transactions and database records to name a few. This holistic, all-seeing power provides automatic, unsupervised, real time discovery of threats and risks that are not detected by existing rule-based solutions.
The analysis of all sources happens in parallel, without the need for any semantic or contextual understanding, predetermined patterns, rules or other known elements. Unlike standard anomaly detection solutions, ThetaRay technology is characterized by high detection rates with extremely low false positive levels – with the more data is available the better the detection and accuracy become.
Resources
download
ThetaRay: Uncover Unknown Threats to Protect Critical Infrastructure
Company Brochure