Uncover Unknown Cyber Threats
Uncover Unknown Cyber Threats
ThetaRay's cyber solution for Industrial sectors protects against unknown zero-day malware, targeted APT attacks, and sophisticated Stuxnet-like state sponsored cyber-attacks that target critical infrastructure.
Monitoring critical infrastructure networks and devices, such as SCADA networks, aircraft engines, medical equipment and other critical assets, the solution enables real-time detection and actionable mitigation of unknown threats before any impact to production, safety or revenues can occur.
UNKNOWN CYBER THREAT DETECTION
REAL-TIME UNSUPERVISED
INDUSTRIAL-GRADE ACCURACY
BIG DATA ANALYTICS
RAPID DEPLOYMENT
UNKNOWN CYBER THREAT DETECTION
Rule-free analysis, detecting unknown or mutated malware and targeted OT & IT-based attacks within seconds instead of months, to prevent impact to critical assets, safety, production and revenues.
ACCURATE DETECTION, LOW FALSE POSITIVE RATES
Industrial-grade accuracy providing reliable, extremely low false positive rates detection on any machine in any environment.
REDUCE CONTROL COSTS
Reduce the number and costs of existing control mechanisms by enabling rules optimization and rule creation with newly identified risk and fraud indicators.
SIMPLIFY DEPLOYMENT & USE
Does not require any changes to existing operations or systems, no rules/threshold setting, all while continuously analyzing mass volumes of multi-source data.
The solution offers end-to-end detection of unknown cyber threats, with easy integration into existing customer systems (customer data sources, storage servers, and investigation & management systems). Key functions span data processing and storage, anomaly detection, alert generation/distribution, investigation and case management.
Detection includes rich, auto-generated, pinpoint forensic information on each event, such as device, time, score, severity, exact measurement and parameters triggering the detection as well as similar detected anomalies. The auto-generated forensics enables incident investigation and response teams to rapidly perform root-cause analysis to stop the threat, preventing any unplanned network downtime or impact to performance.

ThetaRay's non-intrusive industrial solution is deployed on-premises in a centralized location where it can access multi-site data collected by the customer, such as Historian data in the plant operating center, or locally protecting a specific site or entity – like electrical utility substation, offshore Oil & Gas site, water pumping site, commercial airplane etc.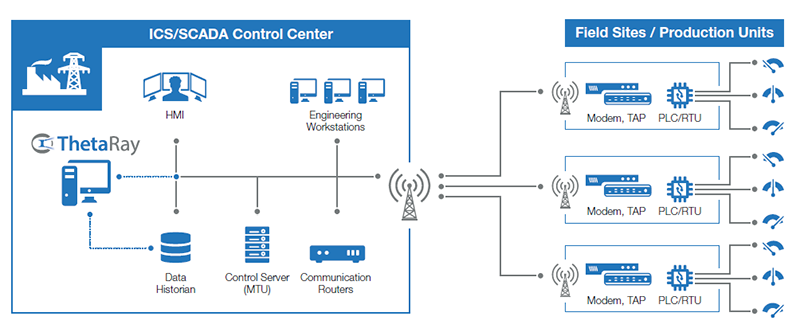 Key Functionality:
Unmatched Detection of Unknown Cyber Threats
Delivering unmatched threat detection rates with extremely low false positive levels.
Protection from Sophisticated OT & IT-Based Attacks
Unlike existing solutions that monitor network traffic, ThetaRay protects machines by also analyzing machine data-in parallel.
Automated End to End Detection, in Real-time
Real-time threat detection that enables customers to automatically identify the earliest signs of hidden cyber-attacks, within seconds, and react before any damage can occur.
Rapid Threat Mitigation
Extensive auto-generated forensic information enables investigation and response teams to easily see the attack "big picture" and take the necessary actions.
Empowering Organizations with Knowledge
Security teams log event information directly into the dashboard to enable using it to expedite future investigations.
Protect Any Environment
The same solution can seamlessly protect a variety of different customer environments and sites of all sizes.
Dashboards, Queries, Visualization and Reporting
Out of the box, easy to customize drag & drop application includes multiple dashboards, advanced querying capabilities, a wide array of built-in visualization tools that facilitate the automation and easy customization of reports.
Resources
Industrial TAP-Cyber™ - Product Data Sheet
ThetaRay's Industrial Asset Protection Cyber Solution
Protecting Your Critical Infrastructure Against Unknown Threats
Today's critical infrastructure networks are no longer isolated or air-gapped.
Your Critical Infrastructure is No Longer Immune to Cyber Attacks
Researchers and organizations tasked with..