Detect Operational Risks in the Financial Sector
Detect Operational Risks in the Financial Sector
ThetaRay's solutions for the financial sector detect, and help mitigate a wide array of operational risks that Financial Institutions face each day, including fraud, insider threats, money laundering and anomalous business processes.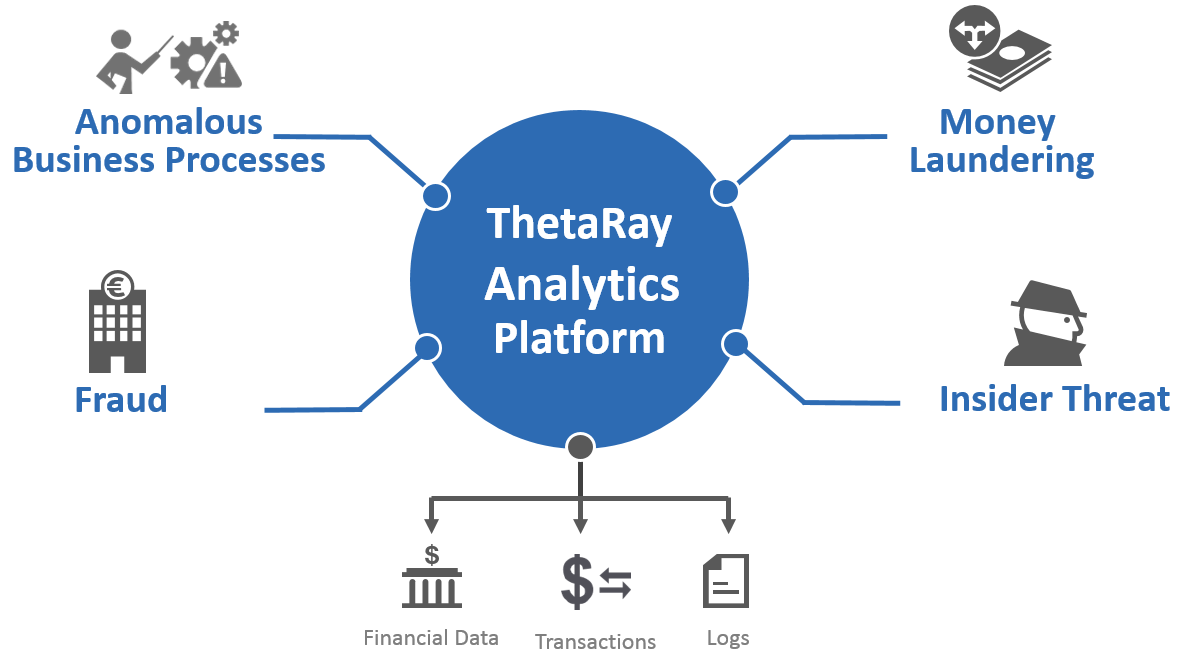 Monitoring numerous types of financial information sources, including transactions, loans & mortgage data, customer data, business processes and internal network activities, ThetaRay's solution for financial organizations enables real-time detection and actionable mitigation of unknown risks.
UNKNOWN RISK DETECTION
MINIMIZE EXPOSURE & IMPACT
BOOST ASSURANCE LEVELS
REDUCE CONTROL COSTS
SIMPLIFY DEPLOYMENT & USE
MINIMIZE EXPOSURE & IMPACT
Rule-free, highly accurate detection of unknown risks, delivered within seconds instead of months, to prevent impact to critical services and revenues
BOOST ASSURANCE LEVELS
Provide C-level executives with a single system to validate the detection of known risks or fraud using existing organizational controls and detection mechanisms
REDUCE CONTROL COSTS
Reduce the number and costs of existing control mechanisms by enabling rules optimization and rule creation with newly identified risk and fraud indicators
SIMPLIFY DEPLOYMENT & USE
Does not require any changes to existing operations or systems, no rules/threshold setting, all while continuously analyzing mass volumes of multi-source data
ThetaRay offers end-to-end detection of unknown threats, with easy integration into existing customer systems like financial data warehouse, SIEM, Risk, Fraud and Auditing mechanisms. Key functions span data processing and data integrity/cleaning, anomaly detection, event generation, alert distribution, and analyst investigation suite.
Detected event alerts are generated within seconds, and include rich, auto-generated forensic information, such as score, timestamp, transaction indication, all parameters that triggered the alert, as well as similar anomalies associated with the same event. The laser-focused forensics enable analyst teams to report detection and rapidly perform root-cause analyses to determine the source of the threat, potential impact and action items.
ThetaRay's software solution is deployed on-premises, in a non-intrusive mode, in close proximity to the Big Data sources it has to analyze, such as relevant DWH tables. The solution can receive the data in various standard formats such as CSV file transfer or REST API. In addition, the solution is equipped with an advanced data processing and data integrity module, further facilitating the processing of mass volumes of multi-source data and ensuring no lengthy and costly integration is required.
Key Functionality:
Superior Detection of Unknown Risks – unmatched, rule-free and context-free detection, identifying the earliest signs of suspected risk and fraudulent activity.
Accurate and Reliable – exhibiting extremely low false positive levels.
Real-Time, Unsupervised – automatic detection and alerting in seconds instead of months, with no need for user manual intervention of big data expertise.
The First Multi-Domain Big Data Analytics Solution – continuous and concurrent analysis of mass volumes of multi-source, multi-domain data, to expose the first sign of threats.
Rapid Risk Mitigation – pin-point forensic information enables risk, fraud, compliance and security teams to rapidly investigate the event and update existing rule-based prevention mechanisms accordingly.
Easy Trial and Deployment – no changes to existing financial networks, detection/control mechanisms, or organizational operations/processes. The solution can be trialed and deployed within days.
Resources
download
Protecting Financial Institutions Against Unknown Threats
The financial sector is under a perpetual attack from within and from outside the...